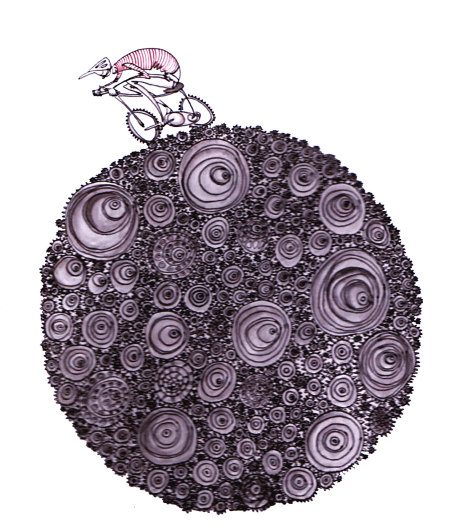 The National Cartoonists Society Foundation (NCSF) announced the winner of the first annual Jay Kennedy Memorial Scholarship, Juana Medina, a sophomore at the Rhode Island School of Design (RISD). She was chosen by a jury of ten of the nation's top cartoonists, including Michael Ramirez, this year's Pulitzer Prize winning cartoonist, Rick Kirkman who draws "Baby Blues," Mad Magazine's Tom Richmond, greeting card artist Sandra Boynton and other 'toon luminaries. I'm the president of the NCSF, and I have to say that is fun giving out scholarships.
Juana Medina was born and raised in Bogotá, Colombia. She completed high school in 1998 then moved to the U.S.A. where she has lived ever since. For two years, she studied at the Corcoran College of Art & Design in Washington, D.C.; she is now majoring in Graphic Design at RISD. She is a regular contributor to the College Hill Independent, a weekly magazine produced by students at Brown University and RISD. Her work has appeared in publications in South America and has been part of collective exhibitions in Colombia and Mexico.
In her application for the award, Medina wrote: "… I grew up in a country where war has been a constant since long before I was born. Our voices have been quieted by terrorist acts and constant threats from both governmental and clandestine groups, up to a point where the smell of gunpowder and the countless bomb threats became a part of our daily life … I found situations where there is little I can do to change reality … but I have found in cartooning a voice that strongly reflects my feelings and intentions. I have found a way to raise consciousness without scolding, fuming or losing my stomach to an ulcer."
Medina will receive her award, and a $5,000 scholarship, and will meet the professional cartoonists who selected her at the National Cartoonists Society's Annual Reuben Awards banquet in New Orleans on May 24th. The Scholarship was created to honor Jay Kennedy, a beloved comics editor at King Features Syndicate, which endowed the scholarship. This is the first year for the scholarship and we got more than 200 submissions – which amounted to a huge stack of stuff. I expect it will be an even bigger stack next year.
———-
Daryl Cagle is a political cartoonist and blogger for MSNBC.com; his cartoons are syndicated to more than 800 newspapers, including the paper you are reading. He runs the most popular cartoon site on the Web at www.cagle.msnbc.com. His books "The BIG Book of Bush Cartoons" and "The Best Political Cartoons of the Year, 2005, 2006, 2007 and 2008 Editions," are available in bookstores now.
For more information on the NCSF and the Jay Kennedy Memorial Scholarship, contact John Kovaleski, NCSF Education Committee Chairman at (717) 334-5926. High-resolution images of Juana Medina's artwork and her photograph are available to download at: http://cagle.msnbc.com/news/blog/medina.asp
The images below are © Juana Medina