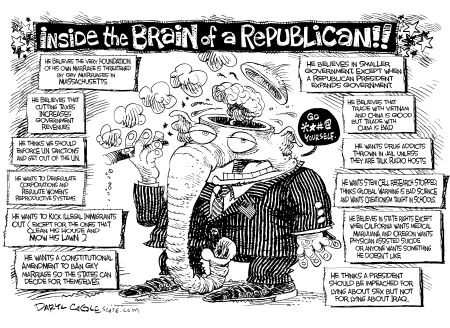 Liberal vs. Conservative Humor
Liberals see conservatives as preachy, sanctimonious and humorless. Conservatives see nothing funny about shrill, angry, liberal losers. Who is funny? It depends on your point of view, but humor writers and cartoonists will always be liberal-leaning; it is a bias that is built into the system. It boils down to core values.
Conservatives believe that people should be trusted; they believe that we should all take responsibility for ourselves, that we should enjoy the rewards of our personal successes and suffer the consequences of our personal failures. Liberals believe that people are basically stupid, that we should be protected from hurting ourselves by making the poor decisions that we would certainly make, if we were free to exercise our stupidity. As a cartoonist, I know that I can't make a living drawing cartoons about people who take responsibility for themselves, but I can make a career out of drawing stupid people.
The responsible vs. stupid perspective is clear for all to see in the Social Security debate. President Bush wants personal retirement accounts where we can make decisions for ourselves about where our money goes. Liberals don't want us to have the freedom to make the poor investment decisions that could erode our retirement "savings." There is no middle ground between responsible and stupid. The same is true with humor.
Jay Leno is a liberal humorist. Jay walks down the street and gives everyday folks the opportunity to demonstrate how stupid they are, while Jay laughs at them. David Letterman is a conservative humorist. Dave treats everyday folks with respect, giving them the opportunity to laugh at how silly Dave is, as he has fruit dropped from a rooftop, or when he visits his stoic neighbor, Rupert Jee, at "Hello Deli," with another goofy contest. Both Leno and Letterman are funny. Liberals and conservatives can both be funny, but it is easier to be funny by laughing at others, rather than laughing with others. Most humorists take the easy road.
In politics it is easy to poke fun at the people in power. Political cartooning is a negative art form. Cartoonists tear things down. There is nothing funny about a cartoon that defends the people in power. With the White House and Congress controlled by conservatives it is no surprise that conservatives are humorless.
Demographics also favor liberal laughs as the blue-state media centers in California and New York broadcast their perspectives into the humorless red states.
Editors often complain that liberal newspaper political cartoonists outnumber conservatives by a ratio of about 10-to-1. Since cartoonists are evenly distributed at newspapers across the country, why would this be true? Most editorial cartoonists rely on a full time newspaper job because it is tough to make a living only through syndication or freelancing. There are fewer and fewer newspaper jobs for cartoonists as papers cut back on their editorial staffs and cartoonists are seen as expendable. The few jobs (about 85) that remain are at the biggest newspapers, which are usually in the biggest cities which tend to be more liberal areas. There are about 1,500 daily newspapers in America, and the vast majority are small, suburban or rural papers that are conservative, and are either too small or too cheap to hire their own local cartoonist. Unless those conservative newspapers get off the dime and decide to hire local cartoonists, we're always going to see a majority of urban, liberal cartoonists.
Conservatives should learn to laugh at themselves, like David Letterman; instead they choose to complain about liberal control of the media. Rather than complaining, what conservatives need are better jokes, a more liberal attitude about their checkbooks and most of all, a liberal in the White House.
Daryl Cagle is the political cartoonist for Slate.com, the opinion site of The Washington Post. He is a past president of the National Cartoonists Society and his cartoons are syndicated to over eight hundred newspapers, including the paper you are reading. His book, "The Best Political Cartoons of the Year, 2005 Edition," is available in bookstores now.