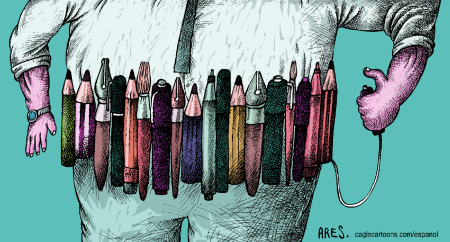 Stealing Cartoons and Pension Plans? No Problem.
One of the perks of being a syndicated editorial cartoonist is that I get to sign my name, in big clear lettering, in the corner of every cartoon. Sometimes I draw cartoons that make so many people angry that I might have been better off leaving my name out, but usually it is fun to have my name there. Often my clients will alter my artwork without my permission and remove my signature, as Newsweek magazine did last week.
I had a long career as a cartoon illustrator before turning to newspaper cartooning. When I drew cartoons for advertising, the clients almost always insisted on taking my signature out of the artwork; they knew what they wanted to advertise, and it wasn't me. I wasn't happy about it, but the demand was so common that I had to agree. I had to make a living.
Even with the typical, harsh contracts, my clients would usually only be concerned about their one job. They would give my art back to me when the job was done, leaving me as the owner of the copyright to my own art – which is important to illustrators. Having "second rights" to sell through internet databases and "stock houses" is a second income for underpaid artists and, like an annuity, the value of an artist's artwork increases over time as an artist collects a larger and larger number of works that he can resell through his career. Artists, cartoonists and illustrators may not have health insurance but we have the "pension plan" of our own lifetime of reproductions rights to resell – that is, until now.
Congress is now poised to wreck the "pension plans" of America's artists in a scheme bigger than Enron. The "Orphan Works Act of 2006" (H.R. 5439) is now before the House Judiciary Committee; the bill would strip artists of the practical ability to defend the copyrights to their lifetime of works. The bill was proposed to deal with the problem of "orphan works" which are copyrighted works whose authors are difficult to identify or locate. Companies have complained that it is too hard for them to find the creators of art that they want to reproduce, so they want to change the law to allow them to reproduce the artwork without permission. The bill would legalize the commercial or non-commercial infringement of any work of art – past, present and future – regardless of age, country of origin, published or unpublished, whenever the rights holder cannot be identified or located.
The bill changes the law to allow any company to reprint whatever art they want – all that is necessary is that the company itself determines that it has done a "reasonably diligent search" for the artist. Beyond that, the bill removes any significant penalties for copyright infringement. Of course, if a company wants to steal artwork, it is in their interest that their "reasonably diligent search" should fail to find the artist. The bill is a broad-based license to infringe artists' copyrights – or, rather, to steal their "pensions."
Current law already allows non-profit organizations, such as libraries and museums, great latitude in the usage of "orphaned works." If a for-profit company is just dying to use an "orphaned work" I'd like to see them hire an artist to make something new – of course, that would be more expensive than just taking the "orphaned" artwork and paying nothing.
Most of my life's work, and most of the life's work of most illustrators, will become "orphaned" and worthless under this bill. The Illustrator's Partnership, a trade group representing artists, has listed changes the bill needs to protect artists. These are:
1.) Precisely define an orphan work as a copyright no longer managed by a rightsholder;
2.) Precisely define the steps a user must take before infringing the work;
3.) Eliminate the unrestricted use of a copyrighted work in a "transformative" work;
4.) Restrict the use of orphan works to not-for-profit uses;
5.) Restore full remedies for infringement as the only means rightsholders have for protecting their intellectual property.
For more information on the "Orphan Works Act of 2006" (H.R. 5439), visit www.illustratorspartnership.org.
Daryl Cagle is a political cartoonist and blogger for MSNBC.com. He is a past president of the National Cartoonists Society and his cartoons are syndicated to more than 800 newspapers, including the paper you are reading. His books "The BIG Book of Bush Cartoons" and "The Best Political Cartoons of the Year, 2005 Edition," are available in bookstores now.