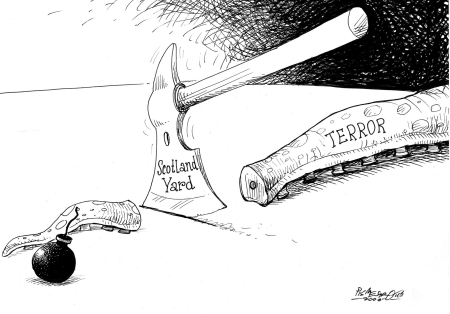 What's in One Name?
I've often thought that it would be great to have only one name, like cowboy gunslingers Paladin and Shane. Rock singers can be such superstars that they only require one name, like Madonna, Cher, Sting or Bono. One name is cool. My personal heroes are Lassie, Flipper, Shamu, Snoopy and Spartacus.
Great artists and composers are referred to by one name. Most people would be hard pressed to think of the full names of Michelangelo, Raphael, Monet, Degas, Rembrandt, Brahms, Bach or Beethoven – we think of them all by one name.
To be known by only one name implies success or infamy. We talk about "Hitler" more often than "Adolph Hitler." "Walt Disney" became only "Disney." After a slow start with "Mickey Mouse," Disney went on to name more than 90 percent of his characters with a single name, from each of the seven dwarfs to Pinocchio, Bambi, Dumbo, Cinderella, Simba, Ariel and Aladdin. One name is so cool.
It's not just the cartoon characters; the cartoonists themselves often go by single names. The top three editorial cartoonists in Canada are Cameron Cardow ("Cam" of the Ottawa Citizen), Thomas Boldt ("Tab" of the Calgary Sun) and Terry Mosher ("Aislin" of the Montreal Gazette). Around the globe cartoonists are expected to choose a single name. Usually the single name is the cartoonist's last name; sometimes it is a combination of the artist's names, like Mexico's Antonio Neril Licon ("Nerilicon"). Thailand's Stephane Peray is "Stephff." Cuba's top cartoonist is Aristedes Esteban Hernandez Guerrero, but his pen name is simply "Ares," which is much easier to digest. Other top international cartoonists go by their first names only: Antonio, Pancho, Arcadio, Christo, Dario, Tayo, Petar, Olle – the list goes on and on.
Single names are less common among American cartoonists. The late, great Virgil Partch was known as "Vip." Kevin Kallaugher, the former cartoonist for the Baltimore Sun, is "Kal." Many American cartoonists sign their cartoons with their last name only, but we don't call each other by our last names and we would expect attributions with our cartoons to list our full names. Many cartoonists, like me, put both their first name and last name into their signatures on their cartoons.
Going by one name is not always a matter of choice for a cartoonist. Newsweek magazine is known as a showcase for editorial cartoonists, and it is their policy never to mention a cartoonist's first name. Newsweek takes the cartoonist's signature out of his cartoon and prints the cartoonist's last name in tiny type under the cartoon. In Newsweek, political cartoonists Larry Wright, Dick Wright and Don Wright would each be called, "Wright." Editorial cartoonists Kirk Anderson and Nick Anderson are both "Anderson."
Going by one name is cool, when it is a nickname, or when it is a name that someone chooses for himself. When somebody else chooses to call me by one name it shows disrespect, much in the way that a drill sergeant talks down to his troops in boot camp. I can't imagine Newsweek referring to George Will's column as being written by "Will." Photographers and illustrators also get two names in Newsweek credits; only lowly cartoonists are limited to one name by Newsweek's longstanding policy.
I suppose it is the nature of the profession for cartoonists. One name will have to suffice. We get no respect. (But what we do is cool.)
Daryl Cagle is a political cartoonist and blogger for MSNBC.com. He is a past president of the National Cartoonists Society and his cartoons are syndicated to more than 800 newspapers, including the paper you are reading. His books "The BIG Book of Bush Cartoons" and "The Best Political Cartoons of the Year, 2006 Edition," are available in bookstores now. Copyright 2006 Cagle Cartoons Inc. Please contact Sales at [email protected] for reproduction rights.