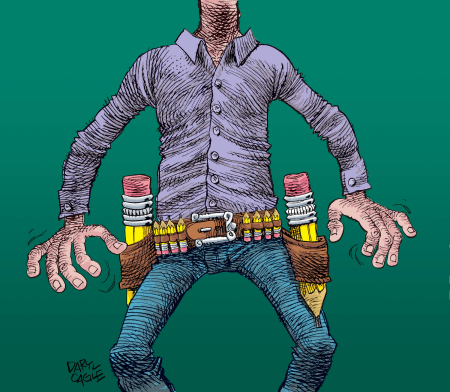 Too Many Cartoonists, Too Little Time
Whenever cartoonists get together we complain about syndicates (the businesses that sell our cartoons to newspapers). Cartoonists are no businessmen — we want syndicates to be like mothers to us, selflessly nurturing our careers so we don't have to sully our minds with yucky business thoughts, when we'd rather be thinking about cartoons. But syndicates don't act like mothers, and cartoonists have some very colorful names for the syndicate executives who sell their work – in fact, some of these colorful names include the word "mother."
In addition to being a political cartoonist myself, I run a small syndicate that specializes in editorial cartoons; I see that there must be one thousand aspiring cartoonists for every working professional, as I'm deluged with unsolicited submissions that are truly awful. At times like this, when people are passionate about politics, the inner political cartoonist emerges from the psyche of the talentless "wannabe."
Many wannabe cartoonists recognize that they have no drawing talent, but it seems that everyone thinks they are a writer. I get many submissions from writers who are looking to collaborate with editorial cartoonists. These writers want to send me gags, or want to find cartoonists who will draw their gags. Here is a typical gag submission:
"So, we have President Bush standing there, and he says, 'Things are improving in Iraq' and behind him you see two massive armies, the Shiites and the Sunnis, about to fight each other, and the sky is filled with thousands of U.S. helicopters, then, in the next panel …"
These are people who think in words, not pictures. For some reason, this group of wannabes includes lots of lawyers who think they are funny. I think lawyers are funny, but I laugh at-them, not with-them; and it is a dark humor that makes me want to go take a shower afterwards. These guys just don't get it. The cartoon writers often send obvious or trite gags that they think are brilliant and original. Sometimes the writers follow up with angry mail when they notice that another cartoonist has "stolen" their gag.
The second group of wannabes do their own drawings, but can't see how truly awful their drawings are. These guys like to use computer fonts in their cartoons instead of hand lettering. Often they will use clip art in their cartoons, or lift photographs from the web, or they will use simple objects like squares and circles, and then have these objects making comments in speech balloons. These wannabes frequently don't know how to work their scanner and will send murky gray images that show crinkled paper backgrounds from the napkins they drew their cartoons on.
One thing aspiring editorial cartoonists have in common is paranoia. I get inquiries like this: "I'm really funny and I have some great ideas, but I need to know how to get them copyrighted first so you won't steal them."
I have a notice on our syndicate web site that that says: "We do not accept and will not review unsolicited submissions from cartoonists." Often the submissions come in with a note saying, "I know you don't accept submissions, but …"
Ambitious aspiring cartoonists see syndicates as gatekeepers, guarding a barrier to the success they deserve. Sometimes the passion and perseverance of these wannabes can be frightening. They find my home phone number and my home address. Drive and perseverance in the face of adversity is a virtue, so their quest never ends.
Some horrid amateur cartoonists are convinced that the world of professional cartooning is a closed shop, an old-boy's network where success is a matter of who you know. Wannabes try to be friendly with my employees or cartoonist colleagues, hoping that the relationship will get them past the barrier. Many terrible submissions are forwarded to me by friends.
When I was an aspiring cartoonist I thought the syndicates were arrogant for sending form-letter responses, or for ignoring submissions – but now I understand why. For many wannabes, any response is an invitation to argue. The aspirants are convinced that their work is great and anyone who doesn't "get it" needs educating. Giving a polite brush-off sometimes fuels their anger.
Ironically, editorial cartooning is a terrible business. Newspapers pay only a few dollars a week for packaged groups of talented cartoonists who are, in turn, poorly paid. The professionals compete for fewer and fewer staff cartoonist positions at papers that are cutting back, as the internet crushes print. More and more professional cartoonists can't make ends meet. The syndicates aren't really a barrier to success for the aspiring cartoonists, just a hurdle on the road to more frustration in a dying profession.
My profession is fading away, I'm poorly paid and there are thousands of rude, talentless wannabes who want my job … but Britney Spears shaved her head – at least the life of a professional editorial cartoonist has its little pleasures.
Daryl Cagle is a political cartoonist and blogger for MSNBC.com. He is a past president of the National Cartoonists Society and his cartoons are syndicated to more than 800 newspapers, including the paper you are reading. His books "The BIG Book of Bush Cartoons" and "The Best Political Cartoons of the Year, 2005, 2006 and 2007 Editions," are available in bookstores now.
Copyright 2007 Cagle Cartoons Inc. Please contact Sales at [email protected] for reproduction rights.