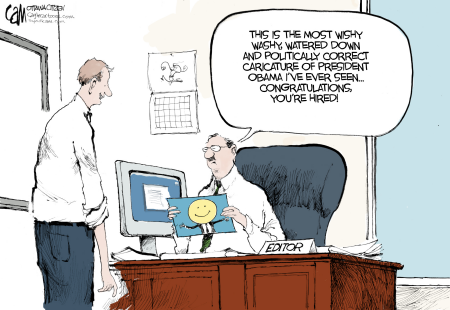 ?
Every time I open a newspaper I read another story about the decline of newspapers. Political cartoonists were the canaries in the newspaper-decline-coal-mine; our ranks have been shrinking for the past 30 years — but now the pace has quickened as only a few dozen editorial cartoonists are left, and they seem to be losing their jobs at a pace of about one per week.
Political cartoons won't disappear. As long as there is a newspaper left, with a space for a cartoonist to fill, a cartoonist will step up to draw. What we're seeing is the "McDonaldsization" of editorial cartoons. Like McDonalds, there aren't a lot of choices on the menu, everything on the menu is pretty good, and everyone, everywhere, chooses from the same, few menu choices. We may soon be left with just a dozen political cartoonists, perhaps the best ones, drawing for all the newspapers — just as we all watch the same news on TV, buy the same products at Wal-Mart, and eat the same food at McDonalds.
To fans of political cartoons, the list of prominent political cartoonists who have recently lost their jobs is shocking. Here is a partial list:
Gary Brookins, The Richmond Times Dispatch (Va.). Buyout.
Tom Meyer, San Francisco Chronicle (Calif.). buyout.
Bill Day, The Commercial Appeal (Memphis,Tenn.). Laid off.
John Branch, San Antonio Express-News (Texas). Laid off.
David Horsey, Seattle Post-Intelligencer (Wash.). Newspaper closed, will continue to work for Web site.
Jim Borgman, The Cincinatti Enquirer (Ohio). Buy out.
Eric Devericks, The Seattle Times (Wash.). Laid off.
Lee Judge, The Kansas City Star (Mo.). Laid off, now freelances.
Don Wright, The Palm Beach Post (Fla.). Buyout.
Steve Greenberg, Ventura County Star (Calif.). Laid off.
Stuart Carlson, Milwaukee Journal-Sentinel (Wisc.). Buyout.
Ed Stein, Rocky Mountain News (Colo.), Newspaper closed. Continues to draw in syndication.
Drew Litton (Sports Cartoonist) Rocky Mountain News (Colo.). Newspaper closed. Continues to draw in syndication.
Ben Sargent, Austin American-Statesman (Texas). Buyout.
Brian Duffy, The Des Moines Register (Iowa). Laid off.
Bill Schorr, quit print syndication.
Bill Garner, The Washington Times (D.C.). Laid off.
Kevin "Kal" Kallaugher, The Sun (Baltimore, Md.). Laid off.
Patrick O'Connor, Daily News (Los Angeles, Calif.). Laid off.
Corky Trinidad, Honolulu Star-Bulletin (Hawaii). Died; position not refilled.
Dick Adair, The Honolulu Advertiser (Hawaii). Laid Off.
Dwane Powell, The News & Observer (Raleigh, N.C.). Now freelances.
Jim Lange, The Oklahoman (Oklahoma City, Okla.). "Early" retirement.
Chip Bok, Akron Beacon-Journal (Ohio). Buyout.
Peter Dunlap-Shohl, Anchorage Daily News (Alaska). Buyout.
Sandy Huffaker, retired from syndication.
Jake Fuller, The Gainesville Sun (Fla.). Laid off.
Dave Granlund, The MetroWest Daily News (Framingham, Mass.). Laid Off.
Paul Combs, left syndication after leaving The Tampa Tribune (Fla.); position not refilled.
Mike Shelton, The Orange County Register (Calif.). Laid off.
Gordon Campbell, Inland Valley Daily Bulletin (Ontario, Calif.). Laid off.
Richard Crowson, The Wichita Eagle (Kan.). Laid off.
Mike Peters, Dayton Daily News (Ohio). Cut back on the number of editorial cartoons he draws.
Ann Telnaes, quit print syndication to focus on animation.
David Catrow, Springfield News-Sun (Ohio). Left to work on other projects.
Daryl Cagle is a political cartoonist and blogger for MSNBC.com; he is a past president of the National Cartoonists Society and his cartoons are syndicated to more than 850 newspapers, including the paper you are reading. Daryl's books "The BIG Book of Campaign 2008 Political Cartoons" and "The Best Political Cartoons of the Year, 2009 Edition" are available in bookstores now. Read Daryl's blog at www.blog.cagle.com/daryl.
—
Daryl Cagle, Cartoonist for msnbc.com
http://cagle.msnbc.com
http://caglepost.com
http://politicalcartoons.com
http://caglecartoons.com
Blog: http://blog.cagle.com/daryl
Twitter: dcagle