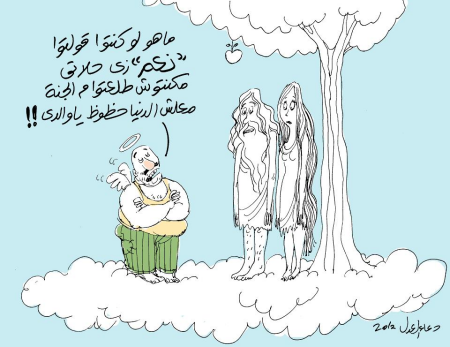 Note to editors : The cartoon referenced in this column follows the text.
It didn't take long for the new Islamist government in Egypt to start acting like other nutty Islamic regimes when it comes to political cartoons.
The latest wacko religious intolerance comes in response to a cartoon by Egyptian editorial cartoonist Doaa El Adl that shows an Egyptian man with angel wings lecturing Adam and Eve. The three characters are on a cloud beneath the infamous, forbidden fruit tree. The angel is telling Adam and Eve that they would never have been expelled from heaven if they had simply voted in favor of the draft constitution in the recent Egyptian referendum.
The cartoon ridicules proponents of Egypt's constitutional referendum who were quoted saying that a "'yes vote' guarantees one a spot in heaven, while a 'no vote' guarantees one a spot in hell."
The cartoonist, one of very few women cartoonists in the Arab world, is being sued by Egypt's new "Secretary General for the Defense of Freedoms," Khaled El Masry along with her editor, Yasser Rizk, and businessman Naguib Sawiris. The Secretary General Masry claims that the cartoon insults Adam, who is considered a prophet in the Muslim religion. Egypt's Attorney General has ordered an investigation.
I met Doaa El Adl at the Association of American Editorial Cartoonists convention a couple of years ago in Florida, shortly after the revolution in Egypt. She was the only woman cartoonist in a large group of Arab cartoonists sent by the U.S. State Department to visit their colleagues in the USA. In our conversations she was beaming with pride and optimism about Egypt's revolution and had high hopes and expectations about Egypt's future. I was impressed with her.
In Egypt, editorial cartoonists are especially important. There are lots of popular, thriving, competing newspapers in Egypt, and most of the newspapers run their editorial cartoon in color on the front page. Editorial cartoonists are the most important voices in each newspaper, and clearly the most threatening voices to Islamic, extremist politicians.
I doubt that Doaa is being sued, and possibly prosecuted, because of insulting Adam; she is being sued to chill her voice, and make it costly to be a cartoonist who is critical of Egypt's new religious junta.
This is a shame. Doaa is talented, brave and eager to seek a better future for Egypt — just what Egypt needs right now. Read more about her case on the Cartoonists Rights Network site at www.cartoonistsrights.org.
Daryl Cagle runs the CagleCartoons.com newspaper syndicate distributing editorial cartoons to more than 850 newspapers around the world including the paper you are reading now; he is a past president of the National Cartoonists Society. Comments to Daryl may be sent to [email protected]. Read Daryl's blog at www.cagle.com/daryl.