I just got back from our Cagle Cartoons junket to the cartoon festival in St Just France. I'm way behind on my cartoons, but I knocked this one out from a snapshot that I took in an obscure corner of the Louvre.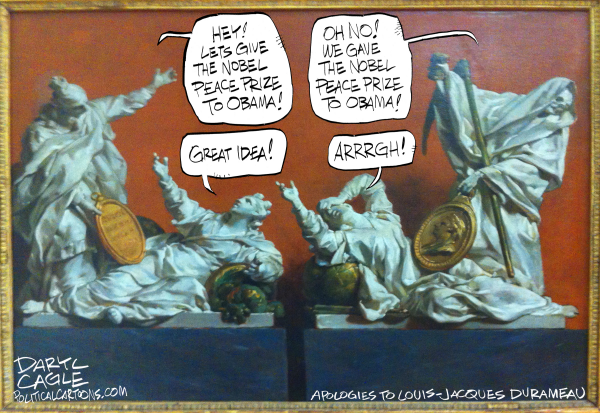 This is a painting by 18th century Neo-classical painter Louis-Jacque Durameau about the death of Marie Antoinette. It struck me as a multi-panel cartoon with a big Nobel Peace Prize medal for Barack Obama. I almost put labels on the frames, "Then," "… and Now" but I decided less is more. This painting is really funny – and all the more so because it takes itself so seriously.
The photo below is our group having dinner in Paris. From left to right is cartoonist Adam Zyglis, cartoonist Nate Beeler , me, cartoonist Steve Sack, cartoonist Monte Wolverton, Janelle Beamer, the charming fiancé of charming, conservative cartoonist Rick McKee, Nate's wife Eve and Adam's wife Jessica.
Here's another group shot, around the cow statue at the editorial cartoon exhibition in St Just le Martel, deep in the heart of France near Limoges. Left to right is Nate, Eve, me, my wife, Peg, Justine the cow, Adam, Jessica, Janelle, Rick and Monte. Steve Sack was with us too; looks like he went missing in this one.
The grand prize winner of the festival (the winner of the cow, the "Humor Vache") was Venezuelan cartoonist Rayma Suprani. The prize is an actual cow. Rayma also got a little porcelain cow.
I've long been impressed with Rayma. She drew for the El Universal newspaper in Caracas where she was a brave critic of the Hugo Chavez regime. The government took over her newspaper and she lost her job. Rayma may be moving to the USA next; I look forward to seeing what she draws here.
I won the grand prize cow at the festival last year, and I drew the poster for this year's salon. As part of the winner from last year thing, the brilliant French caricaturist, Moines, drew my portrait. That's me, giant me, and Moines at the right. Moines draws on a special kind of scratchboard and he carved each of my whiskers into the board with an X-acto knife. Makes me wanna pinch those cheeks.  Moines complains that he's down to his last couple of sheets of this paper, which isn't made anymore. Shame.