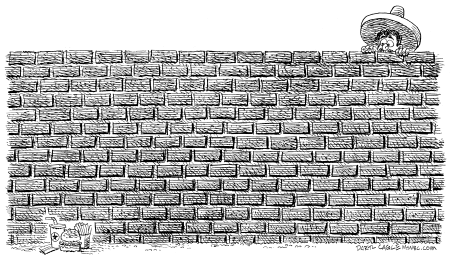 Burgers, Burgers, Everywhere!
For American cartoonists hamburgers are tasty junk food, but for cartoonists beyond our borders hamburgers are symbols of America. In fact, unless we're told that hamburgers are a symbol for the USA, American readers would have a tough time understanding the feast of international burgertoons.
I once sold a cartoon showing the world as a hamburger, by Chile's cartoonist Alen Lauzan, to be printed in a High School Social Studies textbook; when I saw the book I was surprised to see that the author wrote that the cartoon meant that everyone in the world loves burgers. In fact, it meant that American is imposing itself on the world. Lauzan also drew Guantanamo as a jail-burger. Swiss cartoonist Patrick Chappatte draws an American burger-nuclear-apocalypse. I drew an illegal immigrant behind a wall, lusting after America, in the form of a burger.
Cartoonists enjoy gay senators and poison Barbies – but sometimes we just need a burger break. Everyone should understand that.
Daryl Cagle is a political cartoonist and blogger for MSNBC.com. Daryl is a past president of the National Cartoonists Society and his cartoons are syndicated to more than 800 newspapers, including the paper you are reading. He runs the most popular cartoon site on the Web at Cagle.msnbc.com. His books "The BIG Book of Bush Cartoons" and "The Best Political Cartoons of the Year, 2005, 2006 and 2007 Editions," are available in bookstores now.
Daryl is stepping in for Susie Cagle, who is on vacation this week.