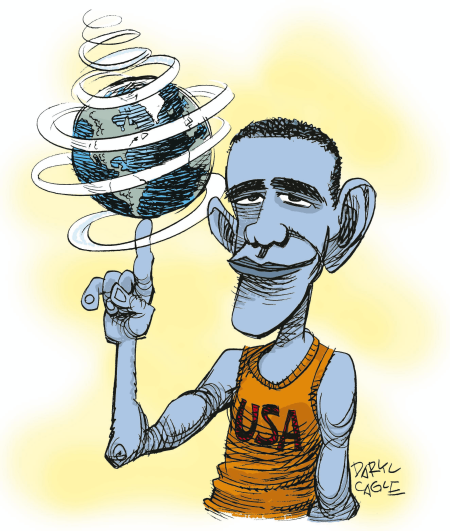 How to Draw Obama
Obama seems like an easy guy to draw; he's skinny, has a big chin, expressive eyebrows and lips. As it turns out, no matter how a cartoonist draws Obama, somebody gets mad.
When Obama burst into the presidential campaign cartoonists started drawing him as a caricature without much exaggeration. As time goes by, political figures morph in cartoons into caricatures of caricatures; George W. Bush shrank to knee height and grew huge bunny ears; Bill Clinton lost his pants and grew fatter (even as he got skinnier in real life). At the beginning of the Obama administration, everyone is watching to see how the cartoon Obama evolves.
I worked for twenty years as a cartoon illustrator, doing drawings for books, magazines and advertising. I was often given clear guidelines on how I was supposed to draw African-Americans: with "small noses" and "thin lips". I was instructed to make any crowds of cartoon characters racially diverse, but only diverse in color, not in facial features. Thick lips and wide noses on African American faces would be returned to me for correction, with a polite reminder of the corporate policies on depictions of minority facial features.
Cartoonist Gary McCoy has been lambasted by readers, and by Salon.com, for drawing racially insensitive, big lips on Obama. Some cartoonists have drawn attention for giving Obama blue lips. Canadian cartoonist Patrick Corrigan of the Toronto Star had an Obama cartoon killed by his editor because of "racist" blue lips. Thomas "Tab" Boldt of the Calgary Sun and Cam Cardow of the Ottawa Citizen have also been rendering Obama with blue lips. Corrigan tells me that everyone in Canada, in the winter, has blue lips.
Readers of my blog explained to me that blue lips are racist and pointed out an old racist expression "blue gums," which was a new one for me. Corrigan tells me he'll be switching to purple lips, Cam will be giving up on the blue lips and Tab was laid off. That may mean the end of blue lips for Obama.
Syndicated caricaturist Taylor Jones also sees blue in Obama. He writes:
"One of the most interesting things about Obama's eyes is the slight blue tinge to the flesh below his eyebrows. It's also visible on his eyelids. It's as though he's wearing a bit of eye shadow. Don't know if it's actual blue pigmentation, or just the effect of light bouncing off the skin stretched against his eye sockets. But it adds a nifty touch whenever I'm drawing Obama's caricature in color."
I'm considering going all the way, making Obama completely blue (if that's not racist).
Obama's ears have grown huge for most cartoonists. George W. Bush's ears also grew huge, but it took more than a year for Bush's big ears to catch on — Obama's ears started right away, and have been expanding faster than the national debt. It may be that after eight years of Bush, we now see huge ears as a standard, presidential attribute. I don't see any particular reason for either Bush's or Obama's ears to grow in cartoons, but with cartoonist peer pressure it will soon be impossible to draw a likeness of Obama without colossal ears.
There seems to be an expectation that political cartoonists are mostly liberals who love Obama and will find it hard to make fun of him in cartoons. Some cartoonists have complained in the press that Obama is dull, and that there is little to criticize about him — we have a term of art for cartoonists like that, we call them "bad cartoonists." It is the job of an editorial cartoonist to dislike everybody. Political cartoonists have nothing to gain by being in favor of anything. Cartoons that support anything are lousy cartoons. There is plenty for everyone not to like about Obama — and with the porky stimulus package and tax-evading cabinet appointments, there's more every day!
The cartoon version of Obama will continue to evolve quickly. If we ever actually see him smoking a cigarette, he will always be smoking in cartoons. Obama may turn different colors, and he'll grow or shrink with his performance. Obama's ears will keep growing no matter what he does. As Obama's honeymoon passes and the caricatures become more severe, I expect the complaints about racism in the cartoons will also grow more severe.
But I don't care. I'm making Obama blue today.
Daryl Cagle is a political cartoonist and blogger for MSNBC.com; he is a past president of the National Cartoonists Society and his cartoons are syndicated to more than 850 newspapers, including the paper you are reading. Daryl's books "The BIG Book of Campaign 2008 Political Cartoons" and "The Best Political Cartoons of the Year, 2009 Edition" are available in bookstores now.