Today's cartoon isn't really an exaggeration – this is what "on-the-record" and "off-the-record" interviews with GOP politicians are really like these days. Sometimes a cartoon is nothing but a slice of life.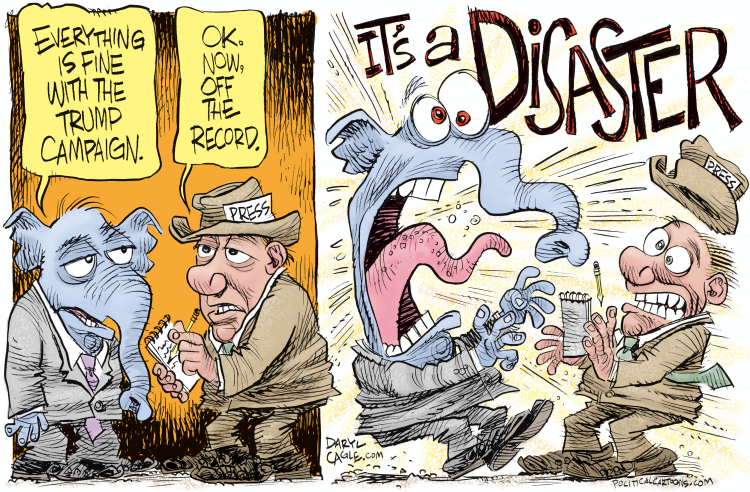 I'm setting up my studio again in Los Angeles after my move back from Nashville and I'll hopefully be drawing more cartoons! This is the first one I've live-streamed from my new setup. There are too many things to remember with the streaming; with this one, I forgot the little sandpaper that I like to have on the side as I draw, to make the chisel points on my pencils – so I went outside and grabbed a couple of rocks. I can draw with rocks instead of sandpaper, just like the caveman editorial cartoonists used to do, back in the days of newspapers and dinosaurs as I saw depicted on my recent visit to the Creation Museum in Kentucky, where they recently opened a $100 million full size replica of Noah's Ark, funded by taxpayers. The project is supported by $60 million in tax-free municipal bonds and ongoing tax support from a sales tax rebate and a tax on wages of all the employees who work for businesses in the Ark's tax district, along with an $18 million tax rebate from the Kentucky Tourism Development Finance Authority. Here's a nice article about it.
Gotta love Kentucky. The video below shows me drawing the "Off the Record" cartoon, rocks and all.  Thank God.
In the next video I color the cartoon, like a modern cartoonist on my Wacom Cintiq.