Want to help? Visit cagle.com/heroes. We need more heroes.
There was a time when readers who are offended by a political cartoons would write a letter to the editor. Now angry readers rant online; they demand apologies or retribution for being offended.
I run a "syndicate" that distributes editorial cartoons and columns to about 850 subscribing newspapers in America. I'm perceived to be the "boss" of the cartoonists, and I get angry demands that I fire cartoonists I work with, who drew cartoons that offend. Just draw about abortion, the Confederate Battle Flag, gun control, religion, Israel or the Palestinians – and the cyber outrage will flow.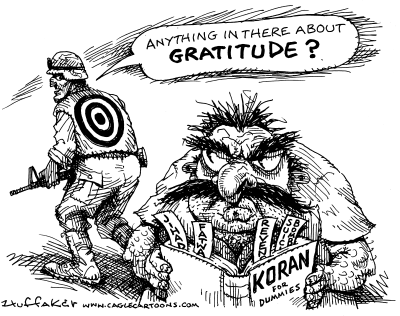 One of our cartoonists drew a cartoon a few years ago that showed an Iraqi soldier holding a book titled, "The Koran for Dummies." The cartoon motivated a group called the Council on American-Islamic Relations (CAIR) to put a call out to their members to e-mail me, demanding that I punish the cartoonist; I received many thousands of crazy e-mail threats in response. Whenever there is a big response to a cartoon, it is usually because some group is organizing the effort.
Recently my political cartoon web site at Cagle.com has been getting hacker attacks. New, crazy, huge, sophisticated, brute force, distributed denial of service hacker attacks, from IP addresses all over the world, focusing on taking us down.
The hackers succeeded in breaking through to erase data on our hard drives on our servers and bring our Cagle.com site down. Luckily, we had an unconnected backup in the cloud, and this attack had us down for only a day rewriting the hard drives. We don't keep credit card information or salacious emails about movie stars online, so there isn't much for hackers to do except to take us down.
The new attacks started before the Charlie Hebdo tragedy, back when we were featuring cartoons about North Korea and the Sony Pictures hackers. Cagle.com is still going down occasionally as the hackers change their strategies. I suppose this is the new reality for editorial cartoonists, who have never been well paid by newspapers that are continuing to cut their budgets. Editorial cartoons seem to be the new flashpoint for a clash of civilizations, even as we tighten our belts.
The bottom line is that our Cagle.com site is now expensive to host as the attacks continue to become more costly and time consuming for us. We thought about dropping the site and concentrating on our little newspaper syndicate, but we're trying something different.
We're putting up a plea to our readers to make contributions to help us keep the Cagle.com site online. I see lots of other sites with "donor" buttons, including opinion sites like Slate.com and Truthdig.com, but this is new to us. Visitors to Cagle.com will see a pop-up window this week, asking for support, and offering lots of nice perks for different levels of support.
We're hoping the love and support of editorial cartoon fans can overcome the costs of the evil editorial cartoon haters.
Want to help? Visit cagle.com/heroes. We need more heroes.