Here's a pro-Trump cartoon. This has been a bad week for Trump as he fumbled a question about abortion and his campaign manager was charged with assaulting a reporter.
I'm sympathetic to Trump in his fumble of the abortion question. The pro-lifers insist that abortion is murder, except that they don't want to respond to the "murderers" with punishment, as though they are actual murderers. "Murder" is just a meaningless word for pro-lifers, chosen because it evokes a strong, emotional response. The abortion debate is like a religion, where arguments are honed over years of practice. Trump is new to the abortion debate, as a new politician, and hasn't polished his responses to conform to the hypocrisy of the pro-life conservatives he is courting. I'm fine with him dialing his comments back after being advised of the equally ridiculous, acceptable response he should have given to woo his new, pro-life audience.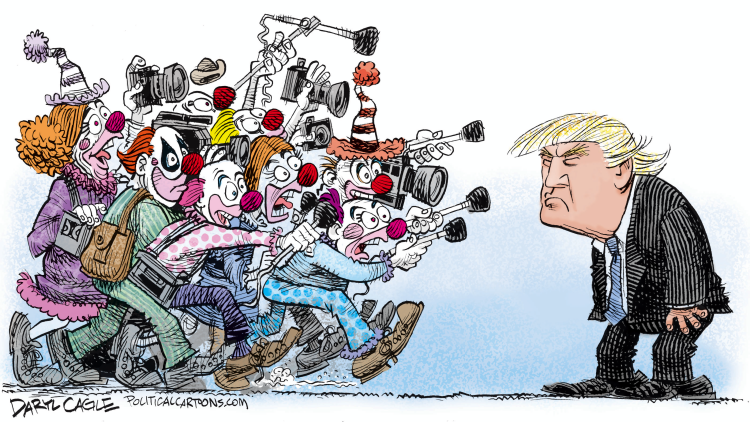 This cartoon also responds to the media kerfuffle over Trump's campaign manager, Corey Lewandowski's alleged assault of reporter Michelle Fields, formerly of the conservative news site Breitbart News. I have to agree with Trump on this one. From the videotape, the incident looks like nothing more than an opportunity for Fields to cause some trouble for Trump – the media clowns have certainly run with it.
Want to see the real-time live-stream video of me drawing this cartoon? Check out the video below.
In the next video below, you can watch me coloring the cartoon in Photoshop.