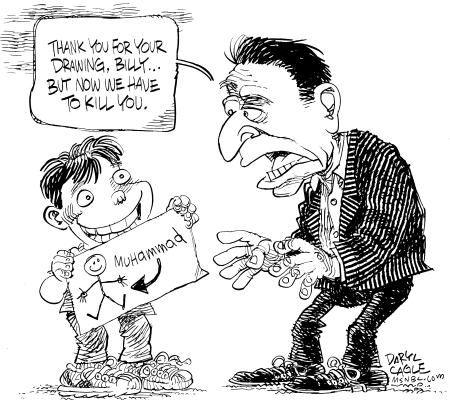 Reprinting Those Horrible, Offensive Muhammad Cartoons
There are riots around the Muslim world, with embassies burning; and 12 poor Danish cartoonists who now fear for their lives have gone into hiding, under 24-hour police protection, as millions of angry Muslims call for their execution. Anyone who hasn't seen the cartoons of the Prophet Muhammad must think they are jarringly offensive –and since very few newspapers in America have chosen to print the cartoons, what else is there to think?
To Muslims, depictions of people – and especially depictions of Muhammad – are forbidden, so it doesn't matter if the cartoons make a statement or not; the very idea that cartoons of Muhammad exist is offensive. To a Western eye, there is little that is offensive in the cartoons. News reports refer to the "Danish cartoons including one showing a bomb in Muhammad's turban," and even that is an exaggeration, describing the 12 cartoons by mentioning only the one that Westerners could imagine causing some offense. Truly offensive cartoons, which never appeared in the Danish newspaper, have been circulated to Muslim crowds to whip up their angry religious fervor.
The overblown reaction in Muslim countries to the blasphemy of the cartoons is what the story has become, as streets filled with violent protestors demand that the infidels in other countries respect a Muslim taboo. Clearly there are many in the Muslim world that are eager to stoke the fires of a clash of civilizations; they think they have found their popular issue with the cartoons.
Politically correct commentators in the West devote equal time to condemning Denmark's Jylland-Posten newspaper as they do for the crowds that are burning embassies and inciting even more violence. Almost every newspaper in America has refused to reprint the cartoons, leaving readers to believe that if they saw the cartoons, they would be offended too. In fact, if American readers saw the cartoons we would say, "This? This is what makes them so angry? That's crazy!"
New and truly offensive Muhammad images are popping up all over the Web. The images show a Muhammad toy on a Lego box, having sex with an underage Lego Aysha girl, Muhammad on products such as urinals and toilet paper, and lots of usage of the original Danish cartoons, revamped to make them more offensive with references to sex, pork, drugs and Danish products that are boycotted in Arab countries.
Not to be outdone, a Belgian-Dutch Islamic political organization, the Arab European League (AEL) has started posting cartoons that they think will be as offensive as possible to the Danish. They describe their effort this way:
"After the lectures that Arabs and Muslims received from Europeans on Freedom of Speech and on Tolerance. And after … many European newspapers republished the Danish cartoons on the Prophet Mohammed. AEL decided to enter the cartoon business and to use our right to artistic expression. Just like the newspapers in Europe claim that they only want to defend the freedom of speech and do not desire to stigmatize Muslims, we also do stress that our cartoons are not meant as an offence to anybody and ought not to be taken as a statement against any group, community or historical fact. If it is the time to break Taboos and cross all the red lines, we certainly do not want to stay behind."
One cartoon on the AEL site has gotten the most attention; it features Holocaust victim Anne Frank in bed with Adolf Hitler, apparently after having sex, Hitler smokes a cigarette and says, "Write this one in your diary, Anne." Aside from that cartoon, it appears that the cartoons that the AEL thinks will be most offensive to Danes are anti-Semitic and Holocaust denial cartoons that are not different from what passes as everyday fare in Arab newspapers. Of course, for the AEL to make their point effectively, we'll need to see the Danes respond by marching in the streets, burning embassies, and calling for the executions of AEL cartoonists.
The proper response to an insult in the press is to respond with more speech, rather than violence in the streets, and the escalating war of offensive cartoons is simply speech. But as the reactions become uglier, readers may believe that the truly offensive images they see on the Web are the kind of cartoons that set off this clash of civilizations, rather than the dull, banal Danish cartoons that they haven't seen. It is important that readers understand what a small spark set off this religious bomb. American editors should rethink their decision not to reprint the original Danish cartoons.
Daryl Cagle is the political cartoonist for MSNBC.com. He is a past president of the National Cartoonists Society and his cartoons are syndicated to over eight hundred newspapers, including the paper you are reading. His book, "The Best Political Cartoons of the Year, 2006 Edition" and "The Big Book of Bush Cartoons" is available in bookstores and Amazon.com now.