Editorial page editors typically reject anything new and different from editorial cartoonists. Unusual styles and formats are just not what editors want to see. Editors like cartoons that look like what they think editorial cartoons should look like – which leads to lots of cartoons that look much the same.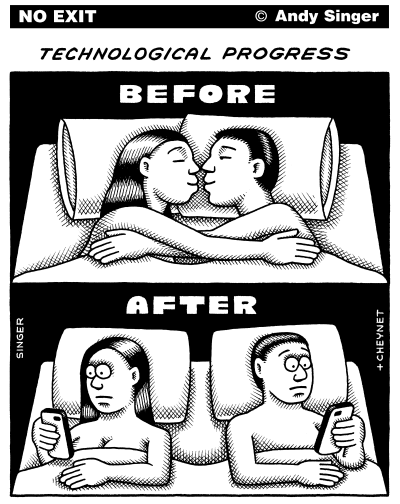 I've been a big fan of Andy Singer's self-syndicated, altie "No Exit" panel for years, and I've been encouraging Andy to try his hand at more traditional editorial cartooning. Andy's panel has content that is socially conscious, like an editorial cartoon, but it is not the right shape, and it is wordy, and it doesn't have caricatures of politicians and the panel format with a title is simply not something editorial page editors will consider putting in their daily editorial cartoon hole.
What to do? Andy wanted to be on the editorial pages but was committed to continuing the "No Exit" panel. Then he gave me a new pitch, saying, "Daryl, you know, when I put two of my panels next to each other it becomes the shape of an editorial cartoon, and if I do two panels that are on the same topic, and color them, it looks like one big editorial cartoon." The idea looked interesting to me. The result is rather stylistically different than what editors are used to but Andy's new editorial cartoon format looks like wordy, multi panel editorial cartoons, and editors seem to be accepting them. The connection between the two panels might be a stretch, but no one seems to notice. So far, so good.
A number of comic strip cartoonists, Like Dan Piraro and Wiley Miller, have been doing their cartoons in both strip and panel format for years. Andy's work has some format advantages over most magazine gag cartoonists' work; Andy's panels are topically editorial cartoons to start with, and he doesn't have a classic gag cartoon style with a caption at the bottom, which would be more difficult to reformat. Still, it may be that some other socially conscious panel or gag cartoonists could develop a new market by finding a procedure to reformat their ongoing work as editorial cartoons. Andy Singer is the trailblazer.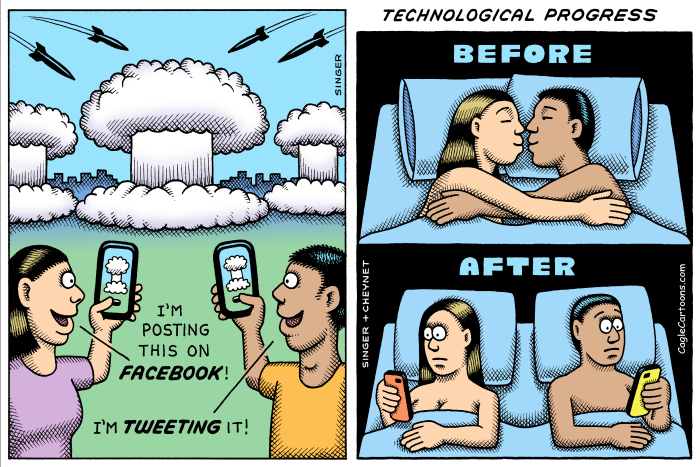 Here are a couple more new editorial cartoons from Andy. Follow Andy's work on Cagle.com here.