We're getting a big increase in complaints from editors since Trump was elected. Most of the complaints are about "imbalance" from editors who want to see "pro-Trump" cartoons. I don't know any "pro-Trump" cartoonists, but we're thinking about how to be responsive to the complaints and there are other complaints.
Editors complain about cartoons that are too raunchy. The cartoons have gotten a lot dirtier with the rise of Trump. Even though newspaper editors choose which cartoon they want to print, many complain loudly that we even have raunchy cartoons available that they pass over and never print. More importantly we have gotten complaints from schools who want to use our sites in the classroom, so we decided to start cleaning up the cartoons by killing cartoons that have graphic sexual depictions and curse words. Of-course, the other newspaper syndicates have always done this, but as a cartoonist run syndicate I suppose I've been a little lax.
One of the first cartoons that got caught up in our new dragnet is the cartoon below by conservative cartoonist, Sean Delonas. My editor, Brian Fairrington, killed the cartoon below because of a bare-breasted "naked lady" in the lower right corner.
Sean amended the cartoon to this version that we have posted now …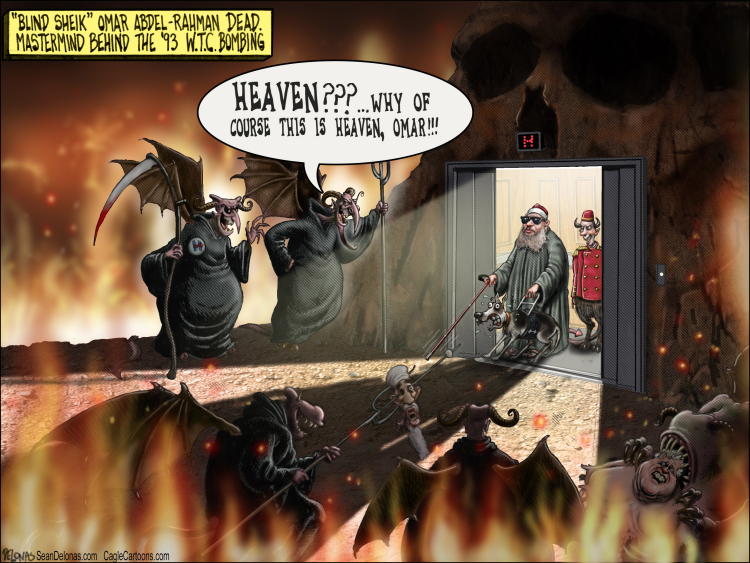 I came to this a little late and asked Sean what the story was behind the topless lady. Sean told me that was no lady, that's Teddy Kennedy. Why the boobs? Sean simply imagined that Teddy's chest would look like that.
And why is Teddy Kennedy in Hell? Because of Chappaquiddick? No. Sean tells me that there's no real reason Kennedy is in hell, Sean just he likes to put little Teddy Kennedys into his cartoons and he has done it for years. I guess I didn't notice.
Sean worked for many years as the cartoonist for the New York Post; he tells me that the folks at the Post really didn't like Kennedy because of his role in forcing Rupert Murdoch to sell the Post in 1988. Sean's editors at the Post encouraged him to bash Teddy Kennedy in his cartoons as often as possible, and Sean made it a regular habit that he continues.
Sean adds that he didn't mind the edit, and that he draws himself bare chested in the same way, because he could afford to lose a little weight. I should add that Cagle Cartoons has no problem with being half-eaten by a worm monster in hell, as long as you're not topless while being half-eaten by a worm monster.
Gotta love journalism, huh?  See more of Sean wild, conservative cartoons here.
Need a closer look? Here's the detail …