Today's cartoon is inspired by a quote from incoming Senate Majority Leader, Mitch McConnell, who said that if President Obama does immigration reform with an executive order, over the objections of Republicans, that would be like, "waving a red flag in front of a bull." Kind of obvious, but it was fun to draw McConnell and Boehner as bulls.
The drawing was a bit more difficult than usual. I think this is the first time I've ever drawn McConnell and I'm not really comfortable with him yet. My rough sketch is below.
I was going to label the "red flag" as "immigration reform" but I decided that was unnecessary. I struggled with McConnell and I did a little patch to draw his face over until I was happy with it. Those marks between Obama and the bulls remind me to reposition them when I do the finished line art.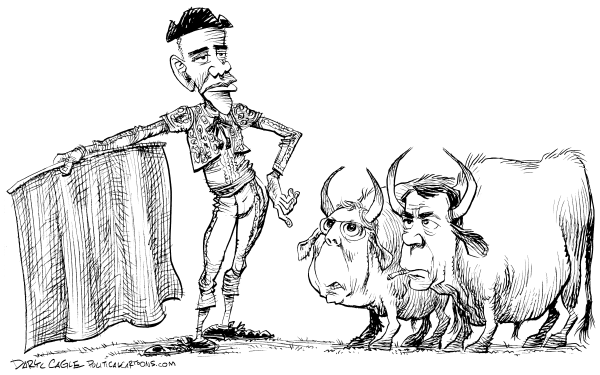 I also struggled with how to draw the bulls' penises in a way that editors could stand, without killing my cartoon. I like how bull penises seem to come out of the middle of their bellies, and I tried to be discreet.
I like to do line art for the black and white version of a cartoon, without gray tones. There is something more elegant about lines – although it is hard to call this cartoon "elegant." Here is the color version …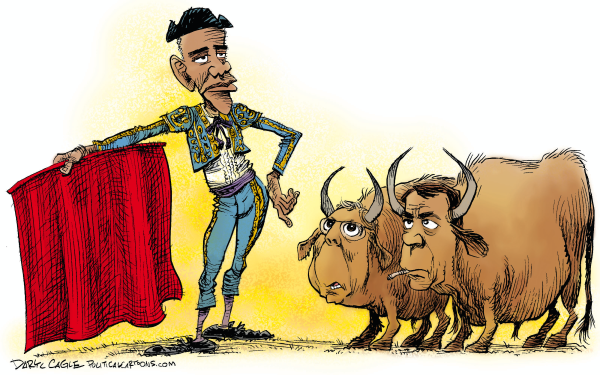 I played a bit with making Boehner orange, and with making the bulls have more light and shadow, but whatever I tried was too busy and I ended up with dull bulls. I'm not really happy with the color on this one. In fact, I'm usually never happy with my color.
I'm looking at doing a video of my drawing my cartoons to post on the site, or possibly to do live as a rather long and boring podcast. It is cartoons like this one that give me podcasting pause, because I fiddled around with it for a long time before I was happy with the caricatures – and cartoonists like to give the impression that drawing everything is quick and easy. I'll have no secrets. On the other hand, the videos may be so boring that no one will notice.
I looked around for some other bulls and I found this one by Georgia cartoonist, Mark Streeter, who beat me to the matador punch.
Here's an oldie by RJ Matson.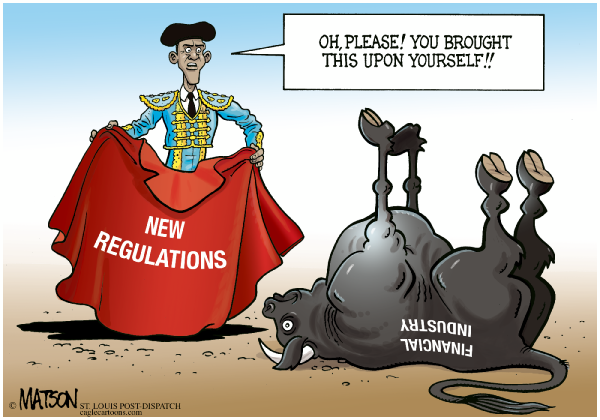 There was a big Yahtzee of matador cartoons about the European Union, back when Spain was having big financial problems and needed a bail-out. Here's one I drew then.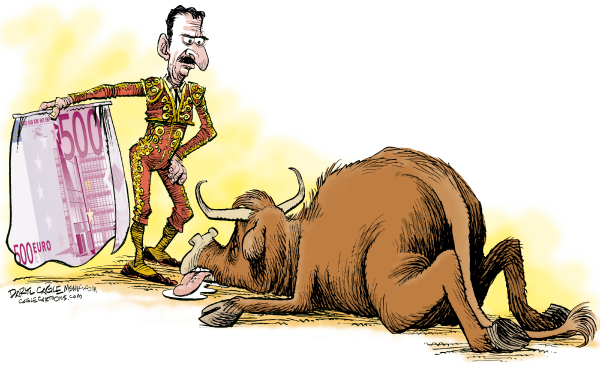 This is a nice bull-fight cartoon from John Cole that is probably better now than when he drew it back in 2006. I like the blank, Orphan Annie eyeballs.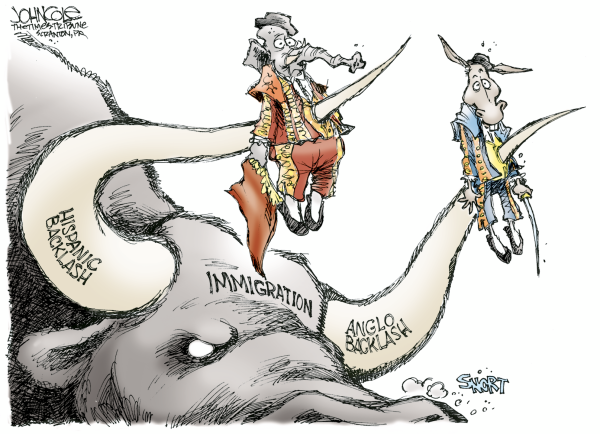 There are a whole lot of matador cartoons out there, but there's always room for more.
And thanks to Jerry Moore for sending me this nice shot of the Op-Ed page of the Los Angeles Times today.