Here's another batch of TRUE cartoons about KIDS!
This is a Facebook oldie that I drew eight years ago. Things don't change much.
One of my favorite cartoonists has rejoined our CagleCartoons.com newspaper syndication package this week. Cuban cartoonist, Alen Lauzán, who emigrated to Chile and works from Santiago. Alan uses no words in his cartoons and has a wonderful, illustrative style. He's back after eight years away. Welcome back Alen!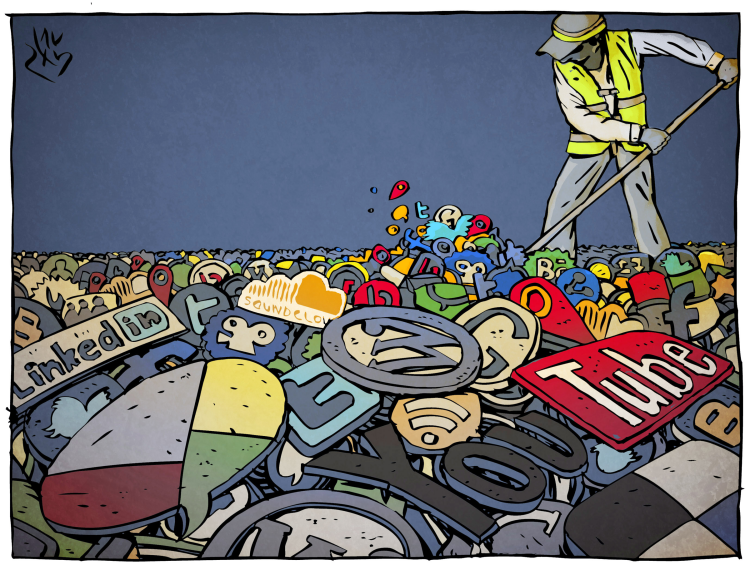 No cartoonist in Cuba has ever drawn Fidel Castro – but ex-patriot Cubans draw Fidel all the time! Here's a great Fidel as Freddy Krueger that Alen drew back in 2008.
Alan likes to draw cartoons about technology, usually combining the old with the new, like this one …
Here's Lauzon's take on Liberty …
The Sony Pictures hacker attack and the cowardly withdrawal of "The Interview" movie has been dominating the cartoons. I drew two!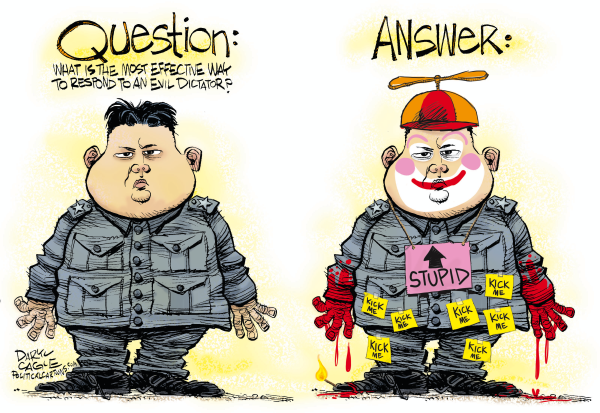 A universal truth about evil dictators is that they have no sense of humor, so I suggest we mock the despots mercilessly. In fact, mocking mercilessly is really the only tool in my cartoonist tool belt – you know, if all you have is a hammer, every problem looks like a nail.
My second cartoon was quite popular on Facebook, featuring Kim Jong Un and the entertainment industry chickens. This one reminded me of my old Muppet days drawing Gonzo's girlfriend, Camilla and all her chicken friends.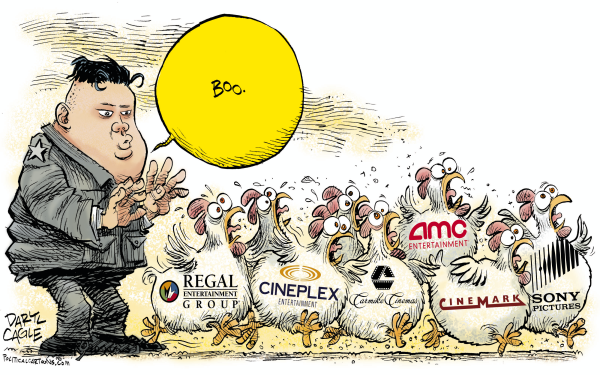 Today we got the news that North Korea's internet service went down. Not much of a surprise – and probaby only a dozen people in North Korea have access to the internet – still interesting. North Korea makes a target of itself, which reminds me of a favorite Kim Jong Un oldie I drew below, which I should take out of mothballs.
And here's one last Kim Jong Un oldie: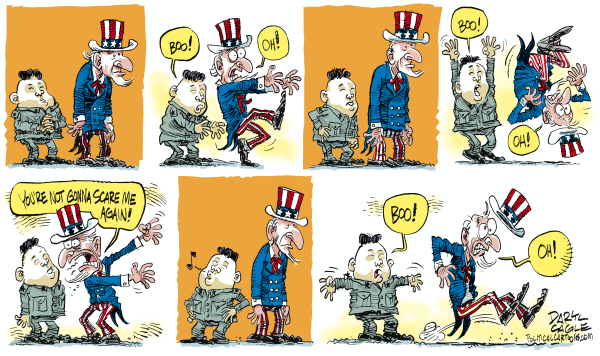 History keeps repeating itself! See more great North Korea cartoons on Cagle.com!
Rick McKee, our brilliant, Conservative cartoonist from the Augusta Chronicle in Georgia, drew this interesting cartoon today, and I asked him to explain.
Rick writes:
"Sticks and stones may break my bones" and apparently, internet Photoshops can really get under the thin skin of Georgia State Representative Earnest Smith, (D-Augusta). Recently, he became upset, to say the least, over a manipulated photo in which a blogger digitally pasted his head onto somebody else's very naked body.

So, he's cosponsoring a bill that would make it illegal to alter a photograph so that it "causes an unknowing person wrongfully to be identified as the person in an obscene depiction." I understand where he's coming from. Nobody wants their head stuck on an obscene image. Problem is, it's perfectly legal and protected by the Constitution under the First Amendment. You'd think a guy in his position would know this.

Of course, he's brought the wrath of the Internet down upon him. Bloggers and forums are trying to outdo one another with lewd images featuring the noggin of Rep. Smith.

But then Smith goes further and says, ""No one has a right to make fun of anyone. It's not a First Amendment right."

Wow. This is truly embarrassing coming from an elected official. If that's true, then as a political cartoonist, I am breaking the law every day. Go ahead and lock me up. Jon Stewart and David Letterman can be my cellmates.

Perhaps, in the future, our elected officials should be required to take a basic middle-school level civics class. Or, at the least, we could include a disclaimer in their job description, "Warning: This occupation may be a hazard to those with thin skins!"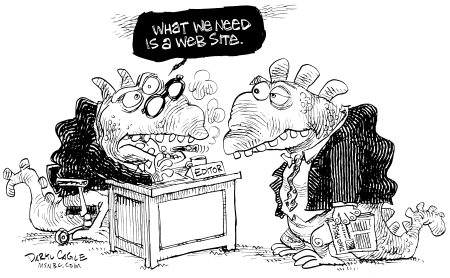 Every day I read something from journalists obsessing about the future of print. The internet is gobbling up newspaper readers and advertisers. The future looks bleak for ink on paper as newspapers respond by downsizing, degrading their product and hastening their own demise. There seems to be a generally accepted axiom that the internet is the future for journalism. Columnists are transforming into multimedia bloggers and cartoonists feel pressure to animate their political cartoons. It makes perfect sense to chase the shifting audience, but the move to the internet doesn't make much business sense.
Newspapers are bleeding revenue as the web enjoys a rush from new advertisers. The newspaper "group-think" solution is to move onto the internet to reclaim advertising dollars—but the money on the web is flowing to the search engines (mostly to Google) where topical ads are displayed with search results. Ads accompanying original content on the Web still pay poorly. As a political cartoonist, I run some popular Web sites that get millions of page views per month, but the ad revenue only covers the cost of my servers and bandwidth. Newspapers share this problem as they pour resources into building their Web sites and get very little revenue in return. Many try charging their readers to read archives on their Web sites, a strategy that fails almost every time as most Web surfers simply browse somewhere else where content is free.
Newspapers continue to pin their hopes on their Web sites in the belief that their brands carry goodwill into a new medium, when in fact, newspaper brands have little value on the Web. The three most popular news sites on the Web—Yahoo News, CNN and MSNBC.com—dominate the audience, with other news sites trailing far behind. The reason why is simple, each is attached to a huge audience (Yahoo, AOL and MSN.com) which feeds readers into these sites.
My own cartoon site is associated with MSNBC.com, which gets its traffic from MSN.com, which gets most of its traffic from the famous MSN.com home page, the default home page for PC buyers using the Internet Explorer browser, who don't bother to change their home page. Yahoo and Google channel their huge search engine audiences into their news sites. The trick to finding a big audience on the Web is to bring your site to the audience, not to expect the audience to find your site.
One of the most popular online newspapers, The Washington Post, understands how the Web audience works. The Post partners with MSN.com and MSNBC.com to bring traffic their way. When The Washington Post Company bought my old employer Slate.com from Microsoft, the negotiations focused on Slate continuing to receive a huge audience flow from promotions on MSN.com. The Post understands the Web where traffic flows like a river – the river has to keep flowing or the lake will dry up.
For many newspaper editors, internet strategy is a fantasy from the movie "Field of Dreams." "If you build it, they will come." Good content is nice (Slate has great original content) but securing a continuing audience for that content is more important. Yahoo and Google maintain top news sites with almost no original content. That's journalism 2.0: circulating content that is created in other media, while paying little or nothing for the content.
Reporters, columnists and editorial cartoonists are suffering from ongoing layoffs in the newspaper industry. The cartooning ranks have been thinned and the cartoonists who still have jobs are often asked to do more work online, such as starting blogs and animating their cartoons for the Web. In 2000, Gregg and Evan Spiridellis (JibJab.com) created some animated political cartoons that became hugely popular on the Web and newspaper editorial cartoonists seemed to agree that, in the future, all political cartoons would be animated. The problem for cartoonists is much the same as the problem for other content creators: there is no market for animated political cartoons when Web sites don't want to pay for content.
I run a popular Web site and I'm the cartoonist for MSNBC.com, but I still make my living selling cartoons that are printed in ink on paper from traditional clients who actually pay. I often get calls from political cartoonists who are starting to animate their cartoons, asking where they can sell their animations; my answer is, "nowhere." Even the successful JibJab guys use their political cartoons for publicity and make their living doing animations for commercial clients. The editorial cartoonists seem to be charging ahead in their aimless endeavors, typically creating animated political cartoons on the side, for newspaper employers who pay them nothing extra for the extra hours, creating content that no one wants to buy in syndication.
At this summer's Association of American Editorial Cartoonists conference, there will be two sponsored programs: "What Do You Mean You're Not Animating Yet?" and "Blog or Die."
The aimless charge to the internet extends to the Pulitzer Prizes. This is the second year the Pulitzers accepted entries that were not printed, but were posted on the Web sites of paid circulation, daily print newspapers. The winner and nominees this year were all employees of print newspapers who submitted portfolios of animated Web cartoons that could not be printed in their newspapers–a first for the Pulitzers. The editorial cartoonist community is in a tizzy. Cartoonists want to win prizes and keep their jobs, and according to the Pulitzer jury, the way to do that is to jump on an internet bandwagon that no one is steering.
Daryl Cagle won't be animating his editorial cartoons anytime soon. He is a political cartoonist and blogger for MSNBC.com. Daryl is a past president of the National Cartoonists Society and his cartoons are syndicated to more than 800 newspapers, including the paper you are reading. He runs the most popular cartoon site on the Web at Cagle.msnbc.com. His books "The BIG Book of Bush Cartoons" and "The Best Political Cartoons of the Year, 2005, 2006 and 2007 Editions," are available in bookstores now.